THE CHOSEN ONES WAKE UP

Premiere of Teatar Mimart, March 12th in Centre for Cultural Decontamination, at 20h
EC project ''Wake Up''

''The Chosen Ones Wake Up'' by Teatar Mimart researches awakeness on an interpersonal level, through the awakened spirit, mind and body, along with the wide-awakeness of the community which is the driving force of society. The concept is based on a series of phantasms which connect waking up with the transcedence of reality, therefore their succesivity is conditioned by the unpredictable dramaturgy of a dream. Our goal is to set imagination in motion, to create a new myth which encompasses and initiates awakeness. The open process of work creates an engaged transmedial performance through the dramaturgical modification. Premiere was on March 12th in Centre for Cultural Decontamination, Belgrade.
Project ''The Chosen Ones Wake Up'' is a part of European project Wake Up, ''Culture 2007-2013''. The coordinator is Opera Circus (Great Britain), and partners are Musicians Without Borders International (Holland), Teatar Mimart (Serbia) and University of Edinburgh (Great Britain). The first phase of MIMART work was Community art project "LIMES" shown at Bitef Polyphony 2010. Continuation of this project developed cooperation with the Youth Theatre B-smisao from Srebrenica into project ''The Chosen Ones Wake Up''.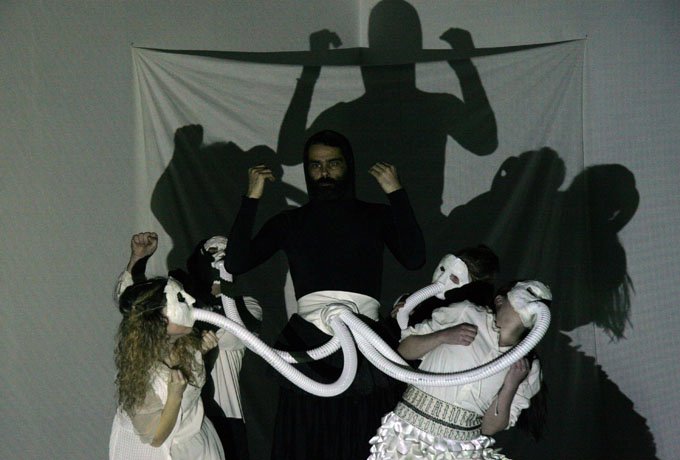 Concept and directing: Nela Antonović
Sound design and live performance: Predrag Radovančević
Light design and video art: Lidija Antonović
Costumes and masks: Anđelija Marković
Stage intervention by graphoscope: Kristina Drašković Bočkov
Theater Mimart (Belgrade): Ana Bastać, Predrag Radovančević, Nikola Vranić, Đurđa Pavlović, Milan Jelen Pajić, Lidija Antonović and Nevena Bakić.
Theater "B-smisao" (BIH, Srebrenica): Verica Jovanović, Aleksandra Jovanović, Marizela Đozić and Filip Jokanović.
Project manager: Ksenija Đurović

Project is supported by: Ministry of Culture, Media and Information Society of Serbia and Secretariat for Culture of Belgrade
Thanks to supported: Center for Cultural Decontamination, Dance Station, Cultural center "Parobrod" Holland Embassy and media support Television B92.