OKTAGON 25
Act II of project "Two Act Performance with Intermission"
premiere 25.04.2009., Bitef Theater, Belgrade  

Scene as a space of research, mistakes, progress, self improvement, arena in which you can become invisible, overwhelmed with garbage, blown, scared or happy. We are falling down to get up. Beauty of the butterfly forgets the ugly caterpillar from which it grew, such as every art in process of developing. We illuminate to detect. We reflect to see. We are transparent…This performance is dedicated to the opening of "new television Oktagon" which attends to contemporary art on a globa level, where ironically speaking we observe the position of contemporary art in the global society.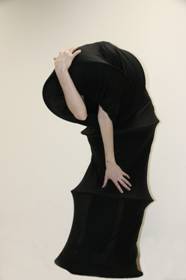 Photo: Lidija Antonovic

Concept and directing: Nela Antonović
Author of music: Predrag Radovančević
Dramaturgue: Dragan Grbić
Costumes and properties: Anđelija Marković
Scenographers: Nikola Nikolić and Anđelija Marković
Video art: Lidija Antonović ANT
Actors: Ana Bastać, Dubravka Subotić, Predrag Radovančević
             Ivan Milenković- Macaco (Capoeria), Lidija Antonović (kamera)
             Marina Bukvički
Vissiting: FIAT festival, Podgorica, Montenegro, May 2009.
INFANT festiva, Novi Sad, June 2009
Press: "Oktagon 25", May 2009., "Time Out"
"…They performed fragmentary stage piece, dark, apocalyptic performance, that is ironic and self ironic. Story of research, identity, being and existence is told through the body and movement. Exciting performance, demanding for audience, sometimes hermetic, but fascinating (capoeira movements, percusions, dancing in a web)."

Jelena Jovanović