ORTHOCENTER

Premiere: March 6, 2020, Great Hall of SKC

Theather performance Orthocenter is based on number three, which is the first key number of the Cosmos according to the concept of 3,6,9 Nikola Tesla. Three indicates the movement of energy, intelligence, integration and interaction. The symbol of the cosmic number three is a triangle, where the synthesis of the creativity of three artists through three successive artistic performances results in an orthocenter.

The play is interdisciplinary interactive with the spectators and begins with the entry of three people into the hall. Photographing in mirrors placed in a biohazard indicates the temporary world, the reflection of modern man in relation to the ecological problems of the planet, and three people become a team. The middle stage is the installation of a triangle on the floor, filled with salt on which the actors play with abundance on a physical, emotional, mental, financial and spiritual level. With, as a symbol of human sweat and immortality, it is transferred in the hands of actors and spectators to the third space with UV lamps. There, the blue light reveals the laboratory and research, where the salt is packed in message bags. Trinity, through: body soul — spirit; birth — life — death; the past — the present — the future, unites here.

The interesting thing about predicting art is in this paper as well, because the separate spaces indicate isolation, biohazard indicates the planet's rebellion, and the laboratory indicates the corona virus research, when the first case in our country was recorded on that day.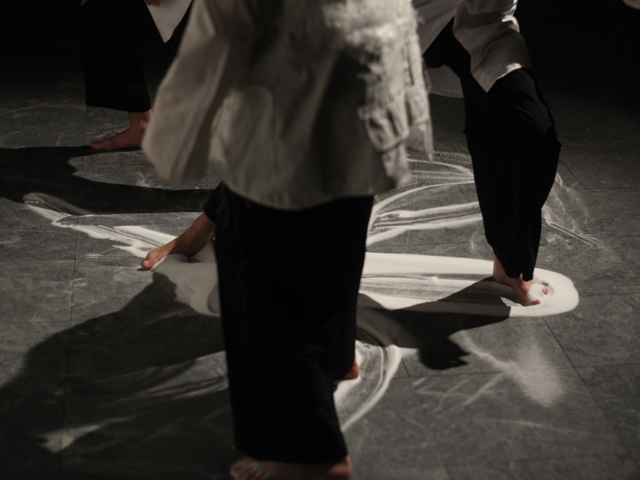 Photo: Srdjan Veljovic
Concept: Nela Antonović
Performers: Alex Spyke, Olga Uzikaeva i Lidija Antonović
Costume and masks: Anđelija Marković
Scene design: Lidija Antonović
Production: SKC Belgrade and Mimart