KADMO THE KING
Premiere July 19th 2007, Budva – grad teatar 

Performance "Kadmo the King", premierly performed on this years festival Budva- grad teatar, doesn't belong to traditional theatre. Dramaturgical basic of Marko Kentera containes material about origin of city Budva, so as the myths and legends related to its foundation. Crucial factor for social transormation was Greece, because of the cultural and political influence. Using archetipes of ancestors, ethnic rituals and customs from the times of Enheleyans  and arrival of Kadmo from Thebes, Nela Antonovic made ritual choreodrama. The first part is about establishing Thebes in Greece, and the second part is related to the foundation of Budva.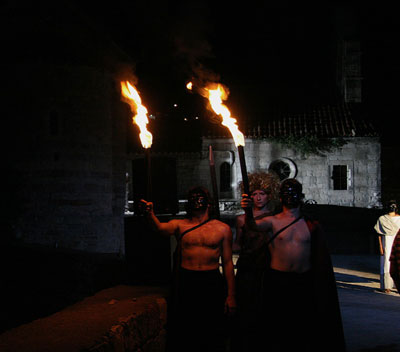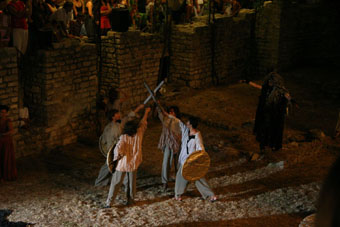 Photo: Lidija Antonovic
Author: Nela Antonovic
Music: Predrag Radovancevic
Costumes and masks: Andjelija Markovic

Performers:
Kadmo: Marko Markovic
Harmonija: Kristina Radenkovic
Atena: Dalija Acin
Pitija: Milijana Makevic
Afrodita: Dubravka Subotic
Zeus: Mihajlo Nestorovic
Apolon: Pero Stojancevic
Hera: Andjelija Markovic
Shadows of Kadmo and Harmonija: Nenad Milosevic & Julia Gorosito
Soldiers/Enheleyans: Dusan Muric,
Branislav Jeremic,
Arion Aslani,
Predrag Radovancevic( The Shaman)
Muses/Enheley women: Ana Bastac, Lidija Antonovic
Delphy dancer: Ana Ignjatovic
Jugglers: Ivana Koraksic, Ana Grigorovic, Ivan Zdravkovic, Milan Manic
Enheleyans: Zoran Jovanovic, Igor Leric
Girl: Marisa Acin
Boy/Ilir: Branko Jovanovic 

Visiting: 21.07.2007, Bar
1.10.2007, Sombor
31.05.2008, Teuta festival, Kotor

Press July 21st 2007 , "Novosti" 
"On a full trace between churches and on the ground of ancient Basilic "Kadmo the King", complex ambiental choreodrama was performed. In exciting story, based on legends and myths related to foundation of Budva, archetypes of ancestors, ethnic rituals and arrival of Kadmo from Thebes, you could see juggling, fire-works, soldiers, muses, dance with fire, Delphy dancer.
P.Radosavljevic